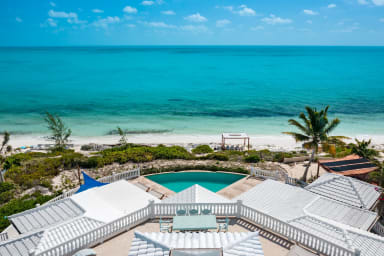 Conched Out (7BR)
Villa in Long Bay, Providenciales - Provo
---
14-16

People

7

Bedrooms

7

Bathrooms

7500ft²
Built right on the beach! Enjoy ample space and an incredible location.
Would you believe us if we told you the stunning beach view is even better in person at Conched Out? The sea surrounding the island of Providenciales, Turks and Caicos transforms from morning to night with the most beautiful colors of blue we have ever seen. Conched Out is seven bedrooms, seven bathrooms luxury beachfront villa perfectly positioned on the private and stunning Long Bay Beach (on the island's southeastern side).
This grand estate offers a plethora of lounging spots on the large pool deck with shaded and sunny seats for enjoying the mesmerizing turquoise views of the ocean. Open the large disappearing doors that lead to the pool deck and let the Caribbean breeze dance into the villa. Splash in the deep infinity pool (can be heated; optional), or fresh grill fish and mix a cocktail in the outdoor wet bar -conveniently located beside the pool terrace! Take a luxurious nap in the breezy shade in one of the three hammocks overlooking the turquoise sea (tip-this is an excellent spot for seeing the spectacular sunrise), or stroll down a few steps to the pristine Long Bay Beach.
Conched Out features seven bedrooms, two living rooms, and a giant open-aired terrace on the top floor, perfect for viewing the tremendous star-filled skies at night! This small Caribbean island's lack of ambient light allows for some truly fantastic star-gazing. Four spacious bedrooms are on the main floor, three of which feature a king-size bed, flat-screen TVs, ocean views, and en-suite bathrooms. The 4th bedroom has twin beds (can also be configured as a king) and a bathroom just across the hall. The three ground-level bedrooms all offer queen size beds; two have en-suite bathrooms, and the third has a bathroom across the hall. The lower ground level provides an additional kitchen and a small dining area.
Bedroom Breakdown:
• Bedroom 1 (Master): Second Story, King size bed, en-suite bath, TV, and patio.
• Bedroom 2: Second Story, King or T/T bed(s), bath across the hall, TV.
• Bedroom 3: Second Story, King size bed, en-suite bath, TV, and patio.
• Bedroom 4: Second Story, King size bed, en-suite bath, TV, and patio.
• Bedroom 5: First Story, Queen size bed, en-suite bath, TV.
• Bedroom 6: First Story, Queen size bed, bath across the hall, TV.
• Bedroom 7: First Story, Queen size bed, en-suite bath, TV.
Notes:
• One mid-week cleaning is included in the rental rate. Additional cleaning is available for an additional cost.
• Our villas include a coffee maker, washer & dryer, gas BBQ grill, beach towels, hairdryers, iron/ironing board (upon request), and a starter supply of paper products (which are not replenished). Portable beach chairs, umbrellas, and a cooler are typically available but are not guaranteed. Baby gear, kayaks, and SUPs are not usually included but can be rented. Post-COVID, most of our villas do not include communal snorkel gear.
• Conched Out features an optional pool heater, and guests may split the $600 A/C allowance between air conditioning and pool heating. Electricity is metered and will be shown upon check-in.  Overage is charged at the current market rate.
• Electricity is metered to discourage A/C use with doors and windows open, thus eliminating the need for a higher rental rate to cover AC waste.  An a/c allowance of $600 per week is included in the rental rate.  Guest will be charged actual usage costs beyond the $600 allowance and will be shown the electric meter upon check-in.
• As of 2018, many parts of Florida, Mexico, and many parts of the Caribbean, including the Turks & Caicos, have been experiencing an influx of seaweed on some beaches. This usually happens between late May and early September and primarily affects Long Bay Beach. Tides, currents, and other conditions caused by mother nature cause sands to shift. Shifting sands may cause beaches on the island to grow larger or smaller or sometimes disappear altogether.
+ More
Less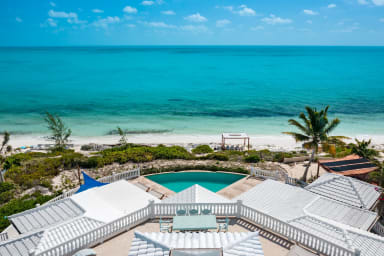 US$1,829

→

US$8,429

/ nightly
Book Now or Enquire
Best Price Guarantee
You will never find a lower rate on any of our villas elsewhere because we obtain pricing and any related specials directly from the owners.
Book With the Source
SKIP THE MIDDLEMAN AND SKIP THE BOOKING FEES! Anyone booking our properties must do so through us.
We Know Each Villa
TC Villas Founder Henry Moog built over 40 villas in Provo, including many on our site. We have seen them in person and, in many cases, stayed in them!​
Learn from Island Experts​
All we do is Provo, and we do it well (or so we've heard!). We know the restaurants, island activities, tour operators… and would love to share our first-hand experience with you!​
---