Tennis in Turks & Caicos
The islands of Turks and Caicos provide visitors with the vacation experience of a lifetime. The area is full of outdoor activities, and with the mild climate and many days of sunshine, these activities can be a year-round experience. Visitors to the islands have opportunities to enjoy white sand beaches, water sports in the turquoise sea, golfing, fishing and boating. The islands are also home to several different tennis facilities that offer play for beginners as well as those who have been playing for years. There are some courts that offer lights at night for playing once the sun goes down, and many facilities also have lessons and activities for children. The following are a few of the tennis facilities available on the islands.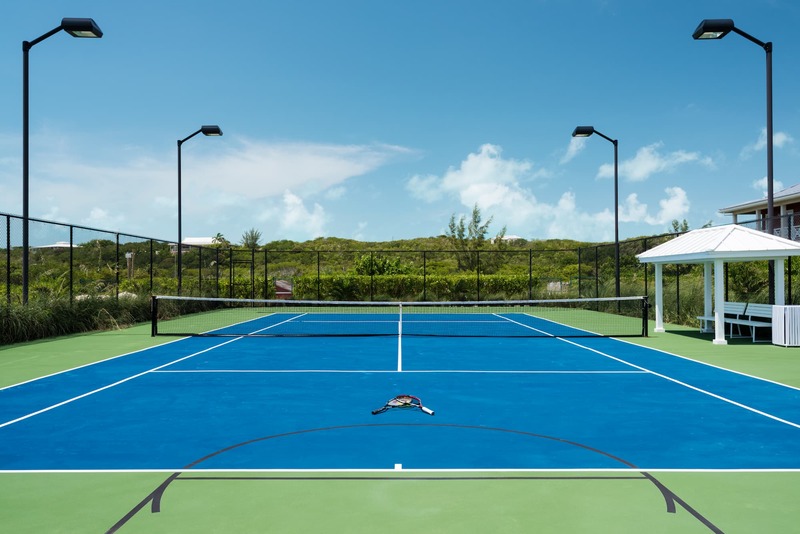 ---
The Turks and Caicos Tennis Club
The Turks and Caicos Tennis Club is located in the Grace Bay area. The club has newly built courts in a modern facility with lights for night play until 10 pm. They offer a tournament-sized court and a regular-sized court, and reservations for play can be made through their website. They have a resident tennis pro to provide coaching and lessons for those who desire some assistance with the game. Youth lessons are available and would be a wonderful way for children to learn a new sport while on vacation. The club also offers racket stringing services and features a shop that sells tennis apparel and equipment for beginners or those who left their tennis gear at home.
Provo Golf Club
Not only does the Provo Golf Club on Providenciales offer a professional-level golf course, but they also have two tennis courts with lights for night play. The courts are available for non-members each day until 5 pm, and reservations for the courts are needed due to high demand. Reservations can be booked up to 7 days in advance. The courts have a locker room, lounge area, and showers for the convenience of guests. Those who visit the islands frequently can benefit from a club membership that will also allow them to take advantage of the golf course and other club facilities. They offer tennis lessons, youth tennis activities during the school term and summer season as well as tennis-themed social gatherings. Racket stringing services are available, and a Lobster tennis ball machine can be rented by the hour.
Graceway Sports Center
The Graceway Sports Center offers a gym, martial arts, children's activities, and outdoor sports courts with 4 newly built tennis courts. They have an on-site tennis pro to offer private and group lessons for adults and youth. All courts are equipped with lights to provide the option of night play. They offer both annual and monthly memberships, and visitors can pay a one-time court rental fee. The facility has tournaments throughout the year, and members have access to social games throughout the week. They also have a covered patio and snack bar as well as locker rooms with hot showers and free lockers for storage.