Visit Chalk Sound, the Blue Lagoon of Turks & Caicos
Visit Chalk Sound, the Blue Lagoon of Turks & Caicos
---
Located on the southwest coast of Providenciales, Chalk Sound is a stunning, landlocked lagoon dotted with countless tiny islands or cays worthy of exploring. The sound, which is a Protected National Park roughly three miles (5km) long, is a must-see for visitors.
---
Quite simply, you've never seen water like this.
---
This beautiful natural lagoon offers a great spot for kayaking, paddle boarding, swimming, and more. You can even explore a sunken plane wreck with a really cool story behind it.
---
History and Background
Before Chalk Sound became a top tourist destination and a wildlife sanctuary, it was a commercial center for raising and canning turtles and shellfish. In the early 1900s, George Silly, namesake of Chalk Sound's Silly Creek, farmed sponges in the area in addition to running a shellfish cannery. The ruins of his home still exist on the edge of the sound.
Today, Chalk Sound National Park provides a safe home to hundreds of marine species, birds, reptiles, and plants. Tourists come to Chalk Sound to see the stunning turquoise water which is ideal for kayaking/paddle-boarding and is shallow & calm enough to enjoy with kids (~3 ft deep). Visitors also love driving by the exclusive villas along the edge of the sound.
---
Our favorite Chalk Sound activities
1- Soak in the view. Few places possess the natural, unspoiled beauty of Chalk Sound. The sand at the bottom of the lagoon is mostly composed of powdered coral and fine limestone -this, in combination with its shallow depth, helps reflect most of the sunlight which is the reason for the incredibly bright blue color.
2- Go for a swim. If you really want to experience Chalk Sound, go for a swim! Motorized boats are not allowed in the sound and the water is clean, safe, and shallow (several areas are less than five-feet deep) – all of which make it a perfect swimming spot for adults and kids.
3- Explore the cays. Rent a kayak or take a ride on a sailboat to visit a few of the hundreds of small islands or cays within Chalk Sound. The cays feature abundant plant life and a safe haven for the only surviving population of rock iguanas on Providenciales.
4- Head to the beach! Chalk Sound is separated from the Atlantic Ocean only by a thin strip of land accessible from Chalk Sound Dr. so you are just minutes from the beach! Pack a snack (and lots of water and sunscreen -there is very little shade here), look for starfish and sand dollars, and go for a swim during high tide at Sapodilla Bay or Taylor Bay.
---
Las Brisas Restaurant
Eat, drink, relax. Las Brisas Restaurant & Bar provides the perfect spot to enjoy lunch, dinner, brunch, or cocktails while overlooking Chalk Sound. You can dine on the restaurant's patio, in the gazebo, or at the poolside bar. The menu includes Caribbean favorites like paella as well as Mediterranean-style tapas like stuffed mushrooms, fried calamari, and baked brie –perfect for snacking and sharing. There are even several tasty desserts on the menu. Wash all of that down with a piña colada, a mojito, or a glass from the extensive wine list. Food and drink aside, it's the view that you'll really feast on here.
---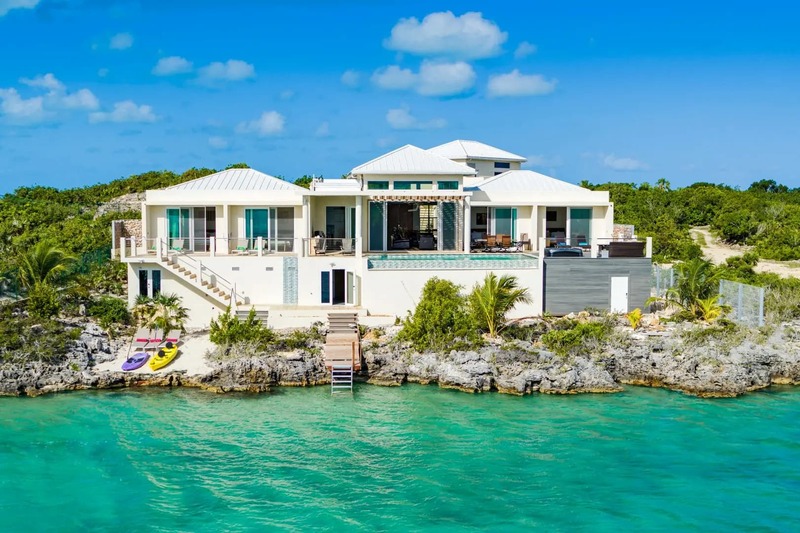 Caicos Cays (5BR)
Caicos Cays is the only villa in our repertoire located in this exclusive neighborhood. As such, this incredible villa offers a series of unique perks such as added privacy, calm waters right outside, and walking distance to Taylor Bay Beach & Las Brisas, just to name a few. Enjoy a private infinity pool overlooking the bright blue waters of Chalk Sound, a BBQ grill to prepare freshly caught seafood, and a modern & luxurious design that will surely impress guests. Click here to learn more about this exclusive villa for up to 12 guests.